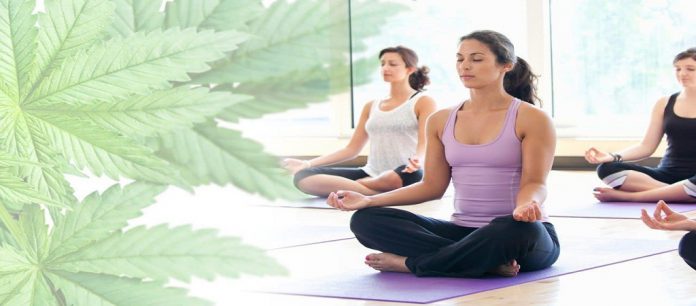 Las Vegas, Nevada – The students of CannaYoga sessions in Las Vegas, led by instructor Ren Jacobson, shares how recreational marijuana enhances the benefits of yoga to them.
One of the students of Ren Jacobson's CannaYoga class is Tim Ray, an army ranger retiree, who served 12 years for the US military force. Now at only 37 years of age, Ray is diagnosed with a post-traumatic stress disorder that he got from his war experiences when he was assigned to Afghanistan and Iraq.
To help him treat his depression, hypertension, and other disorders that affect his mood, he joined the CannaYoga in Las Vegas Valley instead of taking prescription medicines. He joined the weed-enhanced medication and stretching sessions to manage his disorder.
The retired military said that it works and that he feels good that he gets to exercise again and is happy with what he is doing. Recreational marijuana helps him prepare and calm his mind for an hour session of vinyasa yoga, he said.
Next to Ray on the class during the interview are both Las Vegas locals, Morgan Wishengrad and Devon Randall. They stated that tetrahydrocannabinol, a psychoactive ingredient in marijuana, provides them mental relief during their yoga class.
Added by Wishengrad, that since she attended the class last March, the combined effects of the plant and yoga have helped her ease back pain and anxiety attacks.
Emily Wilson, the founder of Elevated Yoga, another weed-yoga class, has been hosting CannaYoga class as well for two days every week since June of last year. The 38-year-old instructor herself is a multiple surgery survivor.
And for four years, she's been using marijuana to deal with post-surgery pains. She testified to the healing power of cannabis and decided to lead yoga sessions to share to others the relief that the plant provides.
Another student of CannaYoga class is Angie Edgington and her mother, who she brought to the studio as a mother's day treat. She said that the simpler stretching of the routine called "yin" is perfect for her mom who is already old which becomes lighter when combined with weed.
Ednington added that they do yoga due to their family's bipolar disorder history, and they both prefer to take medical marijuana instead of pills for treatment.
Ren Jacobson, lead instructor of CannaYoga, and Dr. Scott Jacobson, her husband, started CannaYogaclasses in August of last year when the original founders decided to take their paths on other ventures. CannaYoga is available for individuals who are 21 years old and above, for a fee of $25.
From Las Vegas Valley, the studio was moved to a massive building near the central valley home in Jacobson in January.
According to Jacobson, since CannaYoga started, attendees have doubled in number reaching up to 10 students every class. And almost 40 of the sessions are partnered with medical marijuana dispensaries in Las Vegas and other marijuana local companies.
The success of CannaYoga, and of the businesses on this venture of weed and yoga combination, will depend on how people are recreational marijuana, she said.
Marijuana, both for medical and recreational purposes, seem to significantly enhance the benefits of the yoga to the attendees and their instructors, but are there any medical findings to support these claims with yoga alone?Could this venture be the future of yoga?